Date: July 8, 2017
Host: Marin Waterdevils
| | | |
| --- | --- | --- |
| Rank | Team | Results |
| 1 | Sleepy Hollow Sea Lions | 2327.0 |
| 2 | Terra Linda Orcas | 1671.5 |
| 3 | Strawberry Seals | 1436.0 |
| 4 | Lucas Valley Lightning | 901.5 |
| 5 | Marinwood Waterdevils | |
| 6 | Rolling Hills Stingrays | |
| 7 | Scott Valley Sea Serpents | |
| 8 | Tidalwaves | |
| 9 | Novato Riptide | |
| 10 | Swimarin Sharks | 285.0 |
Results!
Preliminary Champs Info:
Heat Sheets:
Heat Lanes!
Date: June 18, 2017
Hosts: Terra Linda Orcas (at Terra Linda Community Pool)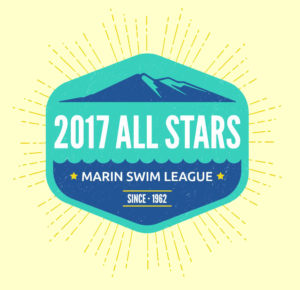 The 2017 Marin Swim League All Star swim meet proved to be another hot
event for the leagues top swimmers. In Sunday's record breaking
heat,close to 400 swimmers from Marin County swam some of their best
times of the season. Overall, nine MSL All Star records and thirteen
pool records were set. A few of those previous records had been on the
books for over 25 years. Over 40% of all swims were personal bests.
TRIPLE WINNERS:
Adam Albers (Boys 8-and-under) ORCA 25 free, 25 back, 25 fly
Nicole Chong (Girls 11-12) ORCA 50 free, 50 back, 50 fly
Nicolette Jasko (Girls 15-18) ORCA 100 free, 50 breast, 50 fly
Max Manwaring-Mueller (Boys 15-18) MWWD 100 free, 50 breast, 100 IM
POOL and ALLSTARS Records:
Mixed 11-12 200 medley relay
Old: POOL ORCA ORCA 1:58.65 05/06/2017
Old: ALLSTAR SVSS SVSS 2:00.41 2010
New: Terra Linda Orcas 1:54.46
Nicole Chong, Thalia Yamini, Andre Ignoffo, Merrik Jasko
Mixed 15-18 200 medley relay
Old: POOL ORCA 1:51.77 2015
New: Marinwood Waterdev MWWD 1:50.70
Madeline Knopf, Max Manwaring-Mueller, Taylor Boyle, Reece Foehr
Girls 11-12 50 free
Old: Pool Alyssa Lo SHST :26.14 2003
New: Nicole Chong ORCA :25.95
Boys 11-12 50 free
Old: POOL Marty Smith LVST :25.49 2004
New: Andre Ignoffo ORCA :24.92
(Also broke old record): Merrik Jasko ORCA :25.25
(Also broke old record): Micah Sher SHST :25.45
Girls 15-18 100 free
Old: ALLSTAR Cassie Fix MW :54.45 06/22/2003
Elizabeth Rosen SHST 06/22/2008
New: Nicolette Jasko ORCA :54.35
Girls 11-12 50 back
Old: Pool Nicole Chong ORCA :30.12 05/06/2017
Old: ALLSTAR Kaitlyn Lo SHST :29.78 2005
New: Nicole Chong ORCA :29.48
Boys 11-12 50 breast
Old: POOL Merrick Jasko ORCA :32.63 05/06/2017
Old: ALLSTAR Larry Becker WAVE :31.59 1989
New: Garrett Goldberg ORCA :31.07
Girls 15-18 50 breast
Old: POOL Alessandra Lollini SM :31.76 2004
Old: ALLSTAR Nicolette Jasco ORCA :31.52 06/20/2016
New: Nicolette Jasko ORCA :31.20
Girls 11-12 50 fly
Old: POOL Lindsay Masterson TPC :28.68 1991
New: Nicole Chong ORCA :27.94
Boys 11-12 50 fly
Old: POOL Andre Ignoffo ORCA :27.35 05/06/2017
Old: ALLSTAR Jonah Albers ORCA :27.45 2014
New: Micah Sher SHST :27.04
(Also broke old records): Andre Ignoffo ORCA :27.29
Girls 15-18 50 fly
Old: POOL Alexandra Thomason ORCA :27.13 2012
Old: ALLSTAR Ivy Senn NOV :27.04 2015
New: Nicolette Jasko ORCA :26.89
Boys 11-12 100 IM
Old: POOL Nathan Luis RHS 1:06.39 2014
New: Garrett Goldberg ORCA 1:04.27
Mixed 11-12 200 free relay
Old: POOL ORCA 1:47.90 05/06/2017
Old: ALLSTAR SVSS 1:48.76 2010
New: Terra Linda Orcas 1:44.86
Merrik Jasko, Andre Ignoffo, Nicole Chong, Thalia Yamini
Mixed 15-18 200 free relay
Old: POOL ORCA 1:39.51 2014
Old: ALLSTAR ORCA 1:38.51 2014
New: Terra Linda Orcas 1:37.49
Nicolette Jasko, Kevin Lechner, Deven Lyons, Skylee Falk
(Also broke old pool record): Marinwood Waterdevil MWWD 1:38.94
Jocelyn Tsai, Max Manwaring-Mueller, Taylor Boyle, Reece Foehr
2017 Final Dual Meet Standings:
| Team | Won | Loss |
| --- | --- | --- |
| Terra Linda Orcas | 7 | 0 |
| Strawberry Seals | 6 | 1 |
| Marinwood Waterdevils | 5 | 2 |
| Sleepy Hollow Sea Lions | 5 | 2 |
| Scott Valley Sea Serpents | 4 | 3 |
| Rolling Hills Stingrays | 3 | 4 |
| Lucas Valley Lightning | 2 | 5 |
| Tidalwaves | 2 | 5 |
| Novato Riptide | 1 | 6 |
| Swimarin Sharks | 0 | 7 |
2017 Season Dual Meet Results:
May 6, 2017
Team
Score
Results
Team
Score
TL
279
SH
275
LV
292
TW
253
NO
186
SV
285
RH
265
MW
286
SM
101
SS
354
Week 1 Summary

May 13, 2017
Team
Score
Reports
Team
Score
SH
399
NO
151
SS
301
RH
254
SV
282
LV
266
TW
233
MW
320
SM
148
TL
384
Week 2 Summary
May 20, 2017
Team
Score
Reports
Team
Score
SH
406
MW
145
TL
305
SS
254
SV
410
SM
124
NO
219
LV
334
RH
288
TW
272
Week 3 Summary
 
June 3, 2017
Team
Score
Reports
Team
Score
SH
379
SV
168
SS
347
TW
213
LV
208
TL
348
MW
357
NO
200
SM
151
RH
387
Week 4 Summary
 
June 10, 2017
Team
Score
Reports
Team
Score
SS
326
LV
226
SV
316
RH
241
MW
196
TL
363
TW
179
SH
370
SM
171
NO
366
Week 5 Summary
 
June 17, 2017
Team
Score
Reports
Team
Score
SV
209
SS
349
LV
241
SH
299
MW
443
SM
104
TW
305
NO
247
RH
213
TL
345
Week 6 Summary
 
June 24, 2017
Team
Score
Reports
Team
Score
TL
368
SV
184
SS
280
SH
273
LV
257
MW
303
TW
411
SM
133
NO
267
RH
288
Week 7 Summary